For some time, Arnway Ltd has been engaged in repairs for the Cement Industry, specialising in weld repairs in- situ to items such as kiln tyres, kiln rollers, mill shells and mill trunnions. All such repairs have been 100% successful, resulting in major downtime savings compared with the alternatives on offer. A recent repair in Ireland was carried out in co-operation with the OEM, a world leader in the cement industry, of Copenhagen, Denmark. The repair consisted of a through-thickness (350mm) defect in the No. 1 tyre across the full width of 650mm. According to calculations, we were able to save the user 3 days of repair time compared to one recently carried out by others. We deposited 360kg of weld metal in 7 days.
We have carried out repairs to mill trunnions in-situ, repairing through-thickness defects in both the bearing area and also the flange radius. No re-occurrence of the problem has been reported. We carry a standard pack of equipment, reviewed for completeness according to the particular needs of the job in hand; ready to fly or freight anywhere. This pack includes full electrical preheat and stress relief gear, welding and Arc-Air gouging gear and all ancillary and support equipment. The preheat and stress relief equipment is controlled by a programmer unit, which will control the temperature to within 10C, removing uncertainty over welding in exposed areas. Typically, we control the temperature at both sides of a completely separated excavation, in order to minimise the risk of unequal expansion as a result of the preheat being applied; and therefore shear stress being applied to the repair when cooled.
We have worked all over the world, and can mobilise in a matter of hours. We are Research Members of The Welding Institute of Cambridge (TWI) and as such, we have unrivalled backup from metallurgical and fatigue design points of view.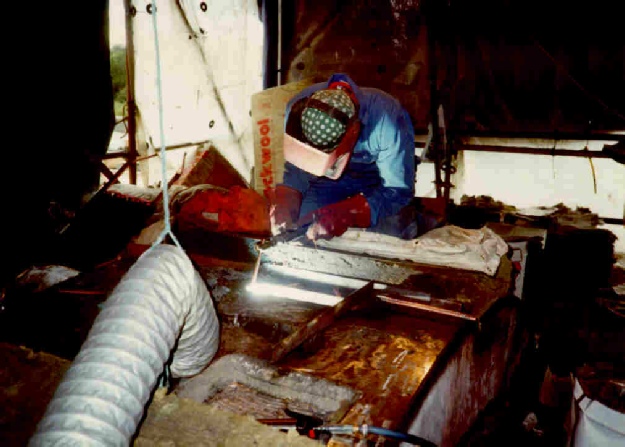 ARNWAY - A COMPLETE REPAIR SERVICE FOR THE CEMENT INDUSTRY