Arnway was introduced to Herrenknecht GMBH in 2002, and it turned out to be quite a baptism of Fire! The job was the assembly welding of a large TBM cutting head for the freight tunnel link in Dublin, Ireland. This head was one of the largest heads yet built by Herrenknecht, at 11.85M diameter. Welding continued around the clock for some 5 weeks, either side of Easter 2002. Although the basic job went very well, both Arnway and Herrenknecht identified several areas where cost efficiencies could be improved in future projects, with resultant advantages for both Contractor and Client.
This was demonstrated later in the year, when a smaller, 8.5M diameter head was assembled for the Channel Tunnel rail link project, at Swanscombe Cutting, Kent. This job went very well indeed and, due to a mutual decision to complete all the welding in one position, and not to turn it twice as in the Tender Proposals, a saving of some 6 days was made over the original timeline. This was obviously of great benefit to Herrenknecht and also to the Main Contractor, and we anticipate being able to save even more time in the future.
The following pictures are all of the Dublin Port job.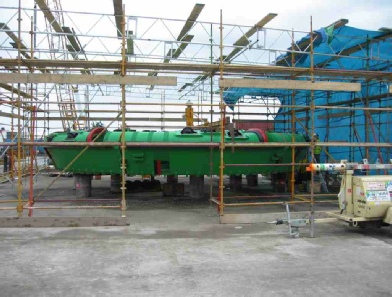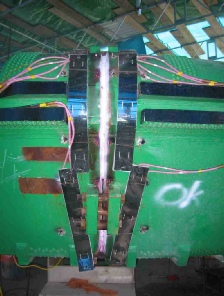 View at tack up stage, showing weather cover under construction. Root runs in place and inspected.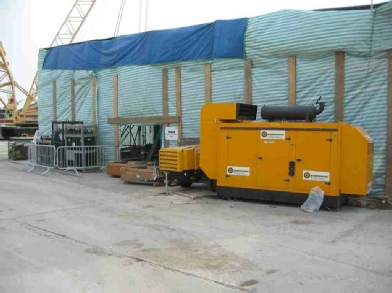 View showing mains generator for preheat power. The full crew, during main lift stage.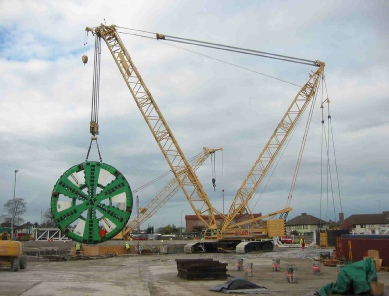 Tying in with the TBM Main Drive Section